A paper on Plant GARDEN was published in BMC Plant Biology
Others

Funding

Database Integration Coordination Program
On Aug 12, 2023, an article on Plant GARDEN, a portal site for genomes and genetic resources of a wide variety of plants developed by Kazusa DNA Research Institute Director Satoshi Tabata and his collaborators, was published in BMC Plant Biology.
This paper is the first paper of Plant GARDEN. It describes the purpose of Plant GARDEN, the technology used for implementation, the types of recorded data, collection and processing methods, and the functions on the display. Advances in next-generation sequencing (NGS) technology are accelerating the analysis of plant genome information worldwide. The Plant GARDEN contains reference genomes, gene sequences, PCR-based DNA markers, trait-linked DNA markers identified in genetic studies, SNPs (single nucleotide polymorphisms), and structural variation (in/del) of genes. In the paper, it is stated that unified functional information was added to all genes using the functional annotation tool Hayai-Annotation, allowing keyword searches across species and comparisons of orthologous relationships between genes. The interface is designed so that it can be widely used not only by basic researchers, but also by researchers in various plant-related industries and in educational field. They say that it will promote understanding of plant evolution and diversity at the genomic and genetic levels by facilitating genome-level comparisons of a wide variety of plants, including practical plants, and that it is expected to make a significant contribution to industries involved in food production, horticultural plant breeding, and green energy.
For more information, see the paper "Plant GARDEN: a portal website for cross-searching between different types of genomic and genetic resources in a wide variety of plant species".
Plant GARDEN was supported from Apr 2017 to Mar 2022 as a part of a project of Database Integration Coordination Program (DICP), "Development of a new platform for plant genome information analyses toward an era of individual genomes".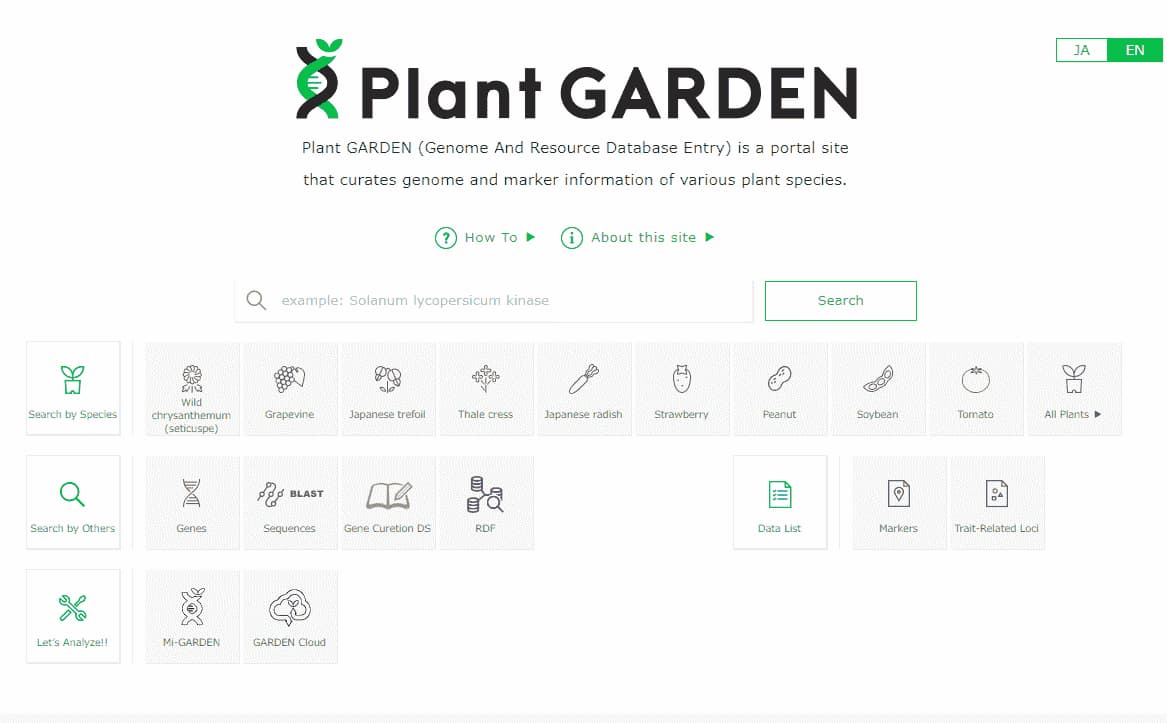 Plant GARDEN data (as of March 2023)
Assembled genome sequences: 304
Gene sequences: 11,331,614
DNA markers: 419,132
QTL: 8,225
SNP listings: 5,934
Supplementary information
DNA marker: A marker of sequence differences in the genome that can identify differences in traits, varieties, etc.
SNP (Single Nucleotide Polymorphism) : The replacement of a single base with another base in genomic DNA; the location and type of SNP can affect gene function and alter traits.
in/del (insertion/deletion) : A deletion or insertion in a region of genomic DNA; depending on the location and type of in/del, gene function may be affected and traits may change.
QTL (Quantitative trait locus) : A region of DNA on the genome that affects quantitative traits such as size, shape, color, and taste.
Orthologue: A group of genes derived from a common ancestral gene that have the same function in different species. It is an important clue in estimating gene function based on genome evolution.