Projects and Activities
About the Life Science Database Integration Project
As part of the project NBDC
 a) will build strategies and formulate guidelines in order to organize and link various life science
 databases(DBs), will provide data as well as technical support for creating DBs, and foster
 collaboration among the bio-industries, research institutions and universities inside and outside of
 Japan.
 b) has created a portal website and will manage this website from which users will be able to
 access existing life science DBs and services as well as those derived from our following funding
 programs.
 c) funds program that intend to encourage DB integration.
 "Database Integration Coordination Program" awards grants for research and development that
 coordinate existing and emerging DBs in specific research fields.
Users will be able to access a variety of existing life science DBs as well as DBs created as part of
our funding programs from our portal website. We believe that this, in turn, will enhance data
sharing within the Japanese life science research community on a more extensive scale.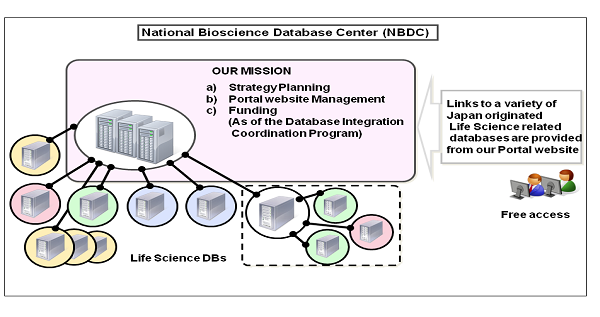 About the Institute for Bioinformatics Research and Development (BIRD)
※Completion by the end of FY2011
The aim of this project is to advance the effectiveness of biological databases such as the genome
databases and promote bioinformatics research and development that shed light on biological
phenomenon. The dissemination of the project outcomes will contribute to the construction of the
world's best life science data infrastructure and further the progress in life science research.
 BIRD website : http://www.jst.go.jp/nbdc/bird/index_e.html