JOSS2018 presentations now available on the website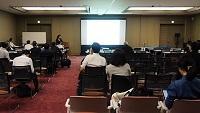 June 19th, 2018, NBDC held a session titled "Data sharing in life sciences" at Japan Open Science Summit 2018 (JOSS2018). Presentation files and movies from our session are now available online.
Presentation files for other sessions of JOSS2018 by our researcher Shigeru Yatsuzuka are also available on the same page.
(Japanese text only.)